Market failure addressed: The Government of Croatia launched a tender in 2010 to seed the creation of a PE industry through program call 'Economic Cooperation Funds.'  It budgeted 1 billion kunas to match 1-to-1 monies that PE funds would raise from LP investors. Five funds raised co-investment from the Government to commence operations.
It was expected that this capital would 'trickle-down' to seed and early stage SMEs, but this investment result did not materialize.  Additionally, new deal flow was emerging from a World Bank facility which financed scientific innovations from idea stage to proof-of-concept; but no domestic source of capital existed in Croatia to finance these innovations on the path to commercialization.
The World Bank engaged Innovative Ventures to advise it, the Minister and staff of the Ministry of Economy, Entrepreneurship and Crafts, in the design, creation and launch of an early stage VC fund to finance underserved and underinvested enterprises in Croatia.
Innovative Ventures' contributions included:
Review grant programs as sources of science-based early stage deal flow
Analyze the entrepreneurial sector and deal flow, e.g., information, communication and technology (ICT), agriculture, medical and infrastructure as examples
Engaged and interviewed Croatian entrepreneurs, PE investors, Zagreb-office EBRD/EIF staff, the Croatian VC Association and entrepreneurial support programs for their input
Innovative Ventures' GoForward recommendations on fund design and structure included: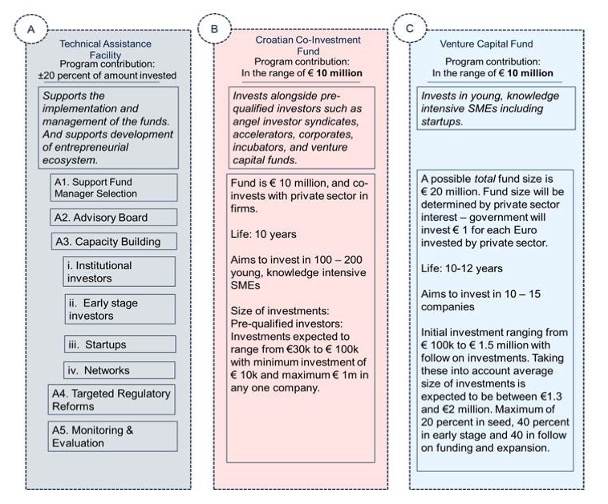 "Consider Innovative Ventures as your investment advisor and partner in planning and executing international private equity schemes. We can help you avoid the learning curve costs that skilled investors inadvertently incur when executing new investment programs."